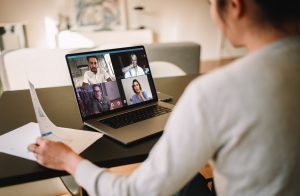 It's no secret that the ongoing coronavirus pandemic has required us to alter how we conduct day-to-day business operations. With business closures, reduced capacity, and employees working from home, it's time to start thinking about how to safely and successfully conduct company meetings in light of COVID-19.
Best Practices for a Safer Conference Room
Every business has responded to the coronavirus pandemic differently. State restrictions and guidelines will typically dictate if your employees are back in the office, working remotely, or a mix of the two. That said, there are solutions to keep employees and company information safe for face-to-face and virtual meetings.
Conference Room Safety for In-Person Meetings
When meeting in-person during COVID-19, health and safety should be a top priority. Social distancing can make it challenging to host a company meeting on-site due to space constraints, but it is doable. Use the tips below to keep attendees safe while meeting face-to-face.
Remove half the chairs from the conference room table for proper social distancing
Leave the door propped open before the meeting begins to limit touching doorknobs
Wear masks
Ask attendees to bring their own pens and notepads
Sanitize the conference room and equipment after the meeting
In addition to safety measures for attendees, it's important to have the right equipment set up to help meetings go off without a hitch. Make sure any existing A/V equipment is up to date and in good working condition. We offer the option of the conference room equipment automatically starting at a scheduled time and wireless collaboration to reduce the amount of touching needed for a meeting.
Conference Room Safety for Virtual Meetings
With more people working remotely than ever before, virtual conferencing applications like Microsoft Teams have become the life raft businesses needed to continue semi-normal business operations. Virtual meetings make it easy to connect with employees, clients, and vendors. But just as with in-person meetings, there are risks associated with hosting a virtual meeting.
While creating a safer conference room for in-person meetings is all about employee health and safety, virtual meeting safety focuses more on network security. Shortly after virtual meetings became a go-to for many companies, some of the meeting platforms became victims of "bombings" where hackers would interrupt and take control of meetings. To protect your meetings from being accessed by outside users and keep company information safe, take the following measures:
Share the meeting URL only with those attending the meeting
Require an access code for all virtual conferences and only share it with those who will be attending
Change the settings to start the meeting only after the host has joined.
Set up a "waiting" room, which allows the host to admit the appropriate attendees and block uninvited users from accessing the meeting
Ask attendees to use their first and last name as the display name so you know who is and can identify anyone that wasn't invited
Disable unnecessary features such as the chatbox, file sharing, etc.
Limit who can share their screen and remind them not to share any sensitive information accidentally
Whether your meetings are in-person, online, or a hybrid of the two, having the right equipment is crucial. An IT professional can help you ensure you're outfitted to handle any type of meeting. They'll make sure your technology is set up properly and make recommendations for software and equipment upgrades to help meetings run smoothly.
Need help upgrading your conference room technology or getting set up for virtual meetings? NetCenter Technology can help. Get in touch with our team to learn more about our audio/visual services and more.