Structured cabling is not something many businesses think about; when everything is working, no one's concerned about what connects their entire network. However, once something goes wrong - like an improperly installed cable that now has twisted or kinked - or a connection fails, can all lead to serious problems with voice or data transmission, particularly as the speed of transmission continues to increase.
We can help you troubleshoot something once it has gone wrong; we can also help plan to make sure it doesn't happen in the first place. If you are building, remodeling, or need to rework your network with structured cabling in North Dakota or Minnesota, contact us first to ensure that your network is set up properly.
When You Choose NetCenter Technologies, You're Also Choosing:
Up to Code Installation: Many cable installation companies disregard code completely when it comes to creating a network. We're not only aware of Minnesota and North Dakota's codes, but each installation also meets or exceeds all city codes.
Quality Service: Our expert technicians will install your cables efficiently, quickly, and cost-effectively.
Certified Experts: Our team holds manufacturer certifications to ensure the proper installation of the product.
Expert Advice: Having trouble choosing between CAT5E or CAT6 cabling? Don't know if you need new cabling or just some maintenance? No problem - we'll help you make the best choice for your office.
These are just some of the reasons why a substantial portion of our cabling business is repeat business from satisfied customers who have experienced first-hand our dedication to excellence.
When you want quality work you can trust, contact NetCenter Technologies today so we can help you with expertise, information, and quality cabling.
Our Structured Cabling Services Include:

Infrastructure Cabling: Ethernet
Ethernet data cabling is a popular way to connect network devices and other IT equipment due to its security, reliability, and cost-effectiveness. Over the years the technology inside ethernet cabling - CAT5E & CAT6 -  has increased to allow higher speeds to information being transmitted.

Infrastructure Cabling: Fiber Optic
Containing strands of glass, fiber optic is high-performing cabling designed for data networking and voice. Fiber optic cables provide higher bandwidth and transmit data over longer distances. This type of cabling is commonly used for Internet cabling and more.

Cable Management
Cable management is a term that is used to describe the way that cabling is routed, organized, and supported when installed on a job site. Part of a proper cable management system is to leave room for repairs and future expanison.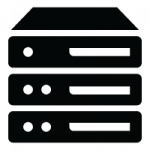 Data Rack/Room Cleanups 
A tangle of cords of way too long cords in your data room got you down? Let us help with that! We can take that messy area that stresses you out and turn it into a thing of beauty by deploying such solutions as cable management, proper cable selection, labeling, and more.