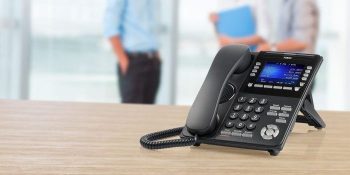 Are you looking for a better solution to traditional phone services? VoIP might be the perfect solution for your business! But what exactly is VoIP? Keep reading to find out.
What is VoIP?
VoIP is an acronym for Voice over Internet Protocol. This technology is sometimes referred to as broadband phone service, and in conversation, it is often pronounced "voyp."
The Federal Communications Commission (FCC) describes VoIP as "a technology that allows you to make voice calls using a broadband internet connection instead of a regular (or analog) phone line." In simpler terms, it allows you to make a call using the internet.
While you may have never heard of VoIP or the exact phrase, "Voice over Internet Protocol," it is likely that you have heard of other companies specializing in this service. One of the most popular and longest-standing is Skype.
How Does VoIP Work?
So, how does Voice over Internet Protocol work? The simple explanation is that VoIP converts your voice into a digital sound, allowing you to make a call directly from a device that uses the internet. Below are some primary examples of devices that utilize VoIP.
VoIP Phones
This first method uses a VoIP- enabled analog/single-line or multi-button phone and specialized router. Once plugged into the router, the user is able to use the phone as normal. Although these phones use VoIP to make calls, they usually look like any standard landline phone you'd find in an office setting.
Smartphones
Those with a smartphone may be using VoIP without even realizing it. Many popular apps utilize Voice over Internet Protocol, including WhatsApp and Facebook Messenger. This technology is sometimes already built into a device such as Apple's FaceTime feature for iPhone users.
Computer or Tablet
The final way to use VoIP is with a computer, which is done along the same lines as using smartphone applications. Like with a smartphone, this method uses a corresponding program to make a call. As technology progresses, many apps and programs are actually available on both computers and mobile devices, effectively increasing VoIP's functionality.
NEC UC Suite
For our NEC phone customers, we help businesses stay connected by using UC Suite. Using the same idea as WhatsApp, UC Suite offers workers the ability to download both a computer app and a mobile version of their office phone.
Some of the benefits of UC Suite include having easy call management for internal users and commonly contacted outside users, visual voicemail for easy management of your inbox, integration with popular CRMs systems, and more.
Pros and Cons of VoIP
Just as with any type of technology, there are advantages and disadvantages to using VoIP.
Pros
Many people argue that VoIP phones allow for more coverage overall. As long as you have an internet connection or data plan, you can make and receive calls.
In addition to providing traditional phone communications, VoIP offers robust benefits for businesses. The technology gives you access to advanced applications that can help you and your staff be more productive. It also includes unified communications services such as:
Phone calls
Fax
Voicemail
Emails
Web conferences
VoIP is also a cost-effective alternative to traditional phone services. It eliminates expenses related to things like international and roaming calls. Many users consider VoIP to be a free service because they're already paying for internet use.
Cons
This is more of a stipulation than a con, as your call's quality will depend on the quality of your internet. If you have a slow broadband line, it can create problems with the clarity and connection of your calls. So, it's crucial to invest in an internet provider with a stronger connection when switching to a VoIP service.
Interested in learning more about VoIP services for your business? NetCenter Technologies can help you find the right solution for your needs and budget. Contact us today to get started!